Defacto is also a Microsoft Certified Partner actively creating and installing Windows based solutions.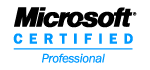 Our specialist team includes Microsoft Certified Systems Engineers and Microsoft Certified Solution Developers with proven skill in creating Access, Visual Basic, Excel and SQL Server business solutions.



Familiarity and expertise with the Microsoft Office and Back-Office architectures means our consultant developers can advise and create Line 500 GUI and Universal Client extensions using Visual Studio and .NET tools to harness the information in Sage ERP X3, Sage ERP 1000 and Line 500 using the ODBC and ADO technologies.