Vendor Facing Return Management - Effective monitoring of Supplier Relationship and Returns
In the distribution section, a customer returns policy is usually backed up with the vendor returns process. Effective Management of vendor returns for replacement, repair or credit is paramount to minimize the overall cost to an organization of customer returns and to ensure fast resolution of customer product problems.
In the manufacturing sector, vendor relationship is equally important with the target of the vendor acting as a work centre of the producing plant. Early visibility of component problems can reduce scrap costs and manufacturing down-time significantly.
The Defacto Vendor Returns module offers an administration console fully integrated with Sage Purchase Order processing and Stock Control and The Defacto Customer Returns, Quality Management and Enhanced POP modules.

Progressing is achieved by stepping through the following stages of Consignment Creation through to Return and Replacement including:
Vendor Return Notes

Purchase History Search

Customer Returns Cross-Reference

Customer Returns Consolidation

Consignment Management - Create / Despatch / Inventory

Return Tracking Vendor - Auto Replacement PO Generation

Vendor Chasing / Progressing

Sage Line 500 POP / Stock Integration

Defacto QN and Vendor Rating

Credits / Write-Offs / Direct Returns

Replacement Stock Costing

Replacements Issues to Customer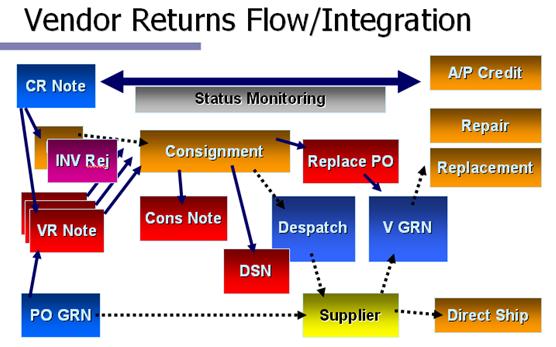 The typical flow of information through the Vendor Returns module takes the following path:
A Vendor RMA Request is raised, supported by warranty information and confirmation or rejection recorded.

Vendor Return products for the same supplier are then built in to a consolidated consignment.
The consignment is then despatched and the items are removed from inventory.

Replacement items of same or alternative or repaired product are received, marked against the Vendor Return and booked into inventory.

Credits for goods which are not replaced appear on the Credit Notes due log.

Reporting includes Vendor Returns Status, Chasing, Replacements Due In, Credits Due, Cost of Return by Item and Organization Overall Cost of Return.

The generation of Vendor Returns documentation and Consignment Notes is all automatically controlled within authorization limits.

With a complete history of the problem available from the Customer Returns module, the negotiation of the Vendor Return is greatly simplified.
At each stage actions are controlled by user profiles set-up during installation. Likewise problem and Fault types, Resolution Actions and Status codes can all be defined during set-up.
The module can be combined with the Customer Returns module from Defacto to provide a distribution returns management system which rides on the underlying Sage Inventory and Order Processing framework.