Web Services for Sage – Universal XML and SOAP Interfaces to execute Sage 1000 Transactions

Defacto WeboB provides a web service interface to Sage 1000 and Sage Line 500 allowing external parties to create sales orders, purchase orders and works orders along with reference data such as Inventory items, Customers, Suppliers, Services in the Distribution and Finance modules and Bills of Materials and Routes in the Manufacturing modules.
The package delivers a means of exposing key Sage functionality to third party developers and system integrators, hiding the complex Sage business rules through a simple interface while at the same time protecting the Sage database.

Defacto WeboB also provides services to execute a wide range of transactions within the Sage environment. The initial release supports inventory transactions including sales order despatch and purchase order receipt, as well as stock take and ad hoc adjustments, bin to bin and inter-warehouse movements. Support is also available for the manufacturing environment for Works Order Issue and Completion, and WIP Tracking including Stop-Start postings through the Defacto WIP Stop-Start module.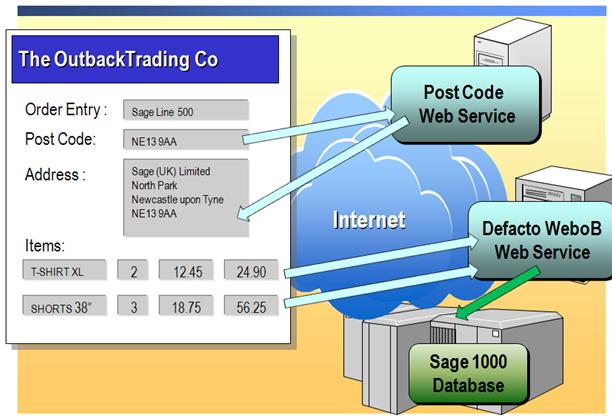 The Defacto WeboB includes a set of W3C Web Services which can be installed on the enterprise server within the intranet or on an external web server which means the module can be used to connect homogeneous businesses together at departmental and enterprise level as well as offering an alternative to conventional EDI for co-operating businesses.
Supported by the proven technology of the Defacto Universal Interface module, Defacto WeboB provides a validated and safe interface to manipulate the Sage database from an external third party source.
CASE STUDIES
Defacto WeboB can be used as a component in building linked systems such as:
Web Sales Back-end – integrating a third party web-sales environment to directly create sales order or invoices within the Sage system to publish a sales portal on the WWW.
Inventory Carousel Interface – providing automatic updates to Sage inventory for put-away and retrieve transactions from warehouse systems reducing double keying.
Customer Returns Portal – creating a customer-facing interface to handle returns queries enhancing customer service performance.
Sub-Contractor Interface – importing and exporting material call-off and operation time and progress data to synchronize Sage production with off-site processing.
Basic Webob Services are available, more services are being added. This is pre-release draft information. The module is currently in alpha test. Some features may vary from the descriptions above.
These products require Microsoft Internet Information Server and Sage 1000 or Sage Line 500 running the Defacto Universal Interface module on a Windows .NET 2.0 platform.
For Web Services to be published on an external web server, it may be necessary for the organization to configure firewall settings to enable a route to the Sage database. All trade marks acknowledged.