Good customer service is the cornerstone to success in business today. And with that goes the need to deal efficiently with problems when materials and goods have to be returned. The Defacto Customer Returns module offers an administration console fully integrated with Sage Enterprise Sales Order Processing and Stock Control. With a complete history of the problem displayed on screen, the customer service representative is ready to deal with the enquiry.

Progressing is achieved by stepping through the optional stages of enquiry, return request, authorization, site inspection, site repair or decommissioning, goods collection, goods receipt, verification and technical checking and repair, return or replacement. Configuration options make the process entirely flexible.

With details of product warranty immediately available based upon direct customer or ultimate end-user, the system provides all the information necessary for the return/replace decision process.
Where speed of service is at a premium, the system offers an Advanced Replacement facility.

The generation of Returns documentation, Replacement Orders and Credit Notes for returned goods is all automatically controlled within the user's authorization limits.

Returned items can be booked back into stock. In the case where goods are wrongly returned, No Fault or Handling charge can automatically be raised. Carriage charges and sales or return restocking charges are configurable.

Where repair is possible, repair costs can be charged where appropriate.
At each stage actions are controlled by user profiles set-up during installation. Likewise problem and Fault types, Resolution Actions and Status codes can all be defined during set-up.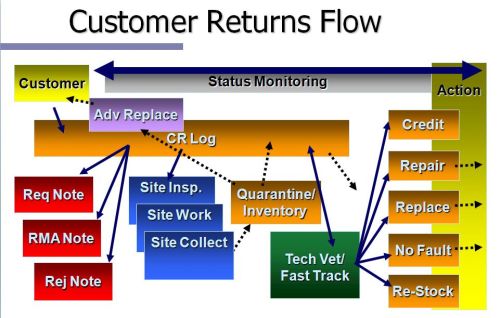 The Customer Returns module also integrates nicely with the Defacto Vendor Returns module to provide a full distribution goods management option which sits above the Sage Inventory and Order Processing system.